I would like you to rise from your seat, come close to your window and take a close look at it. You could think: it's just a window, it opens, maybe even tilts, what else could I do with it?
This is just the thing! We can make your windows original, functional, aesthetically pleasing and safe at a low cost. How many times did it happen that you woke up in the morning and could not find out if it was raining or not, or if the neighbour had already got up, only because our window was covered in water vapour?
Most users are accustomed to their currently used casement windows, most frequently – poor quality ones. These users wanted tight windows finally – ones that do not require lining with blankets, foams or other sealants.
The up-to-date window production technology has finally allowed to manufacture a product that satisfies every user in terms or air- and water-tightness, given the experience of windows from the past years. However, it is just the world of super-tight windows where water vapour condensates on the panes. As a consequence, water reaches every corner of the frame, leaf, wall, etc.
This might lead to wall moisture and result in unnecessary high costs of replacing such windows in the future. All right, we know the consequences of having windows not tight enough. What is the solution? There are two, in fact: all you need to do is systematically ventilate the rooms – problem solved. On the other hand, who is going to force you to open the windows in cold autumn or winter mornings?
Especially that you have spent often big money on new windows trying to get rid of the previous problems with wind, rain and frost. Luckily, we have another solution.
Winkhaus fittings used by Oknoplan have long ago been adjusted by enriching standard envelope fittings with additional fitting elements of a window leaf (the MSL tilt adjustment mechanism) that allows for four-stage tilt of a window. The first stage gives a slight slit between the frame and the leaf.
It allows for ventilating the room with slight tilt of the leaf that remains locked. The solution is also applied for our windows and allows for safe ventilation of your apartment when you are away or sleep. Under the changing weather conditions of our climate zone this is a particularly valuable additional function of tight windows.
Limited air exchange in a room results in increased water vapour condensation. Water vapour is the factor responsible for wall moisture and mould. Steamed panes are the first sign of insufficient ventilation.
Air ventilators are simple elements installed in windows which allow for appropriate air intake even when the windows are closed. An air ventilator consists of two parts: an external one – an eave protecting from rain and insects and an internal part responsible for the amount of air intake.
At present the Oknoplan Factory offers automatic air ventilators installed in windows and allowing to adjust airflow, to satisfy the needs of our customers.
There is a wide range of windows manufactured from various materials – PVC, wood and aluminium – on the market. Wooden windows are much more expensive than PVC and require maintenance. Renovation should be carried out every 7 to 10 years. The renovation cost is not going to be low. Reconstruction of the beautiful surface of a wooden window frame might amount to 200 PLN/m2. Therefore, when you choose the material of your windows don't forget about proper maintenance and costs of renovation.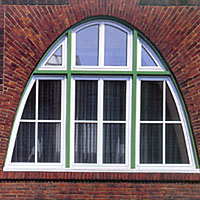 PVC windows produced by OKNOPLAN do not require such costly renovation, but they are not completely free from maintenance. The window profiles should be cleaned with PVC cleaning products at least three times a year to prevent reaction between aggressive dirt and the profile.